http://www.wiatrak.nl/9943/chorowanie-w-holandii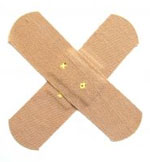 Hipochondria
Hipochondria czyli chorzy z urojenia jest kłopotliwa zarówno dla pacjenta jak i dla lekarza. Dominującą cechą hipochondryka jest stałe nieuzasadnione przekonanie o posiadaniu co najmniej jednej poważnej i postępującej choroby. Doświadczony lekarz znający swoich pacjentów potrafi z reguły odróżnić pacjenta z prawdziwą chorobą czy urojoną. Tymczasem hipochondryk przy najdrobniejszych nieprawidłowościach funkcjonowania organizmy wpada w panikę i strach przed chorobą zagrażającą jego życiu. Wszyscy jesteśmy w mniejszym lub większym stopniu hipochondrykami. To nasz naturalny strach przed śmiercią. Na szczęście większość ludzi potrafi dobrze relatywizować i tylko prawdziwi hipochondrycy lecą z każdą dolegliwością do lekarza.
Człowiek
najbardziej
cierpi na cierpienie którego się obawia
Według tego holenderskiego przysłowia
żyje prawdziwy hipochondryk. Hipochondryk przychodzi do lekarza z całą listą wygooglowanych bolączek na które on akurat wszystkie cierpi. Niestety nie zawsze lekarz postawi właściwą diagnozę dlatego też na grobie hipochondryka widnieje napis "

A nie mówiłem!?

"
Mottem prawdziwego hipochondryka są słowa Jezusa Chrystusa "

Szukajcie, a znajdziecie

".
Polak u holenderskiego lekarza
Gdy w Polsce do dziecka z gorączką (38,5ºC) potrafi przyjechać pogotowie to w Holandii lekarz domowy telefonicznie i lakonicznie poleci
spanikowanej matce
podać aspirynę i przyjść z dzieckiem ewentualnie następnego dnia do jego gabinetu.
Na grypę i zaziębienie nie wynaleziono jeszcze lekarstwa i holenderski lekarz nie przepisuje na takie dolegliwości żadnych leków, a już na pewno nie antybiotyków. Lekarze domowi kierują się zasadą, że choroba sama przejdzie gdyż tak też jest w 90% przypadków. To oszczędza służbie zdrowia masę pieniędzy i czasu. Niestety Polacy w Niderlandach mają z reguły uczucie, że znajdują się w tej pozostałej 10-procentowej części.
Holenderski lekarz nie cacka się z pacjentem
Na wszystkie choroby; od czyraków po egzemy, leżą w poczekalni foldery które cię uświadomią, że wyzdrowiejesz sam gdy tylko będziesz uprawiał sport, jadł dużo warzyw, pił mleko i nosił czyste skarpetki. Antybiotyki są przepisywane jedynie w wypadku postępującej gangreny. Skierowanie do specjalisty dostajesz tylko w wypadkach beznadziejnych. Ze złamaną nogą udajesz się samemu na pogotowie i siedzisz kilka godzin w poczekalni między innymi ciężko rannymi czekając na zmiłowanie.
Kobieta w zaawansowanej ciąży może tu śmiało jeździć na rowerze - w innym kraju lekarz by ją za to mocno skrzyczał ale nie w Holandii. Gdy się skarżysz na bezsenność - lekarz radzi więcej świeżego powietrza i wysiłku fizycznego.
Faktycznie taka pragmatyczna służba zdrowia ma jak najbardziej rację; gdy masz za duże ciśnienie, cukier lub cholesterol - nie żryj tyle, nie pal, ruszaj się więcej! Ale my tego nie chcemy słyszeć. Wolimy lekarza który nam przepisze "mocne" lekarstwa.
Z najbardziej błahą dolegliwością musisz się wysiedzieć w poczekalni do lekarza domowego, bo bez jego recepty nie dostaniesz żadnego lekarstwa oprócz: aspiryny, paracetamolu i kropli do nosa. Bez skierowania lekarza domowego nie wejdziesz do specjalisty, nie pójdziesz na badania.
Moją holenderska sąsiadkę z otwartym złamaniem nogi mąż zawiózł najpierw do lekarza domowego po skierowanie do pogotowia. Holender nie zawraca głowy Panu Doktorowi błahostkami.