O mnie
I am a mom of three children. My hobby is machine embroidery, applique, decorative stitch free motion embroidery thread, embroidery, textile art, I love sewing, it's my second life. She inspires, designs, I love the distinct colors, nature, landscape, creative handbags, pillows ... ... and everything else. A few years ago, for a creative-my pillow in a competition in the Netherlands won 1st place, I was very happy. A few times I had a part in other competitions, where I had a second place, I'm also described in 2009 in the magazine in Australia-Creative Expressions and other countries about my work. In the Netherlands, where I live permanently, also describes me in the creative and my work. I love my family, and my hobby.
Wyświetl mój pełny profil

sobota, 15 marca 2014
http://www.wiatrak.nl/9943/chorowanie-w-holandii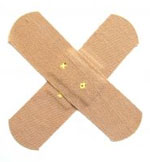 Hipochondria
Hipochondria czyli chorzy z urojenia jest kłopotliwa zarówno dla pacjenta jak i dla lekarza. Dominującą cechą hipochondryka jest stałe nieuzasadnione przekonanie o posiadaniu co najmniej jednej poważnej i postępującej choroby. Doświadczony lekarz znający swoich pacjentów potrafi z reguły odróżnić pacjenta z prawdziwą chorobą czy urojoną. Tymczasem hipochondryk przy najdrobniejszych nieprawidłowościach funkcjonowania organizmy wpada w panikę i strach przed chorobą zagrażającą jego życiu. Wszyscy jesteśmy w mniejszym lub większym stopniu hipochondrykami. To nasz naturalny strach przed śmiercią. Na szczęście większość ludzi potrafi dobrze relatywizować i tylko prawdziwi hipochondrycy lecą z każdą dolegliwością do lekarza.
Człowiek
najbardziej
cierpi na cierpienie którego się obawia
Według tego holenderskiego przysłowia
żyje prawdziwy hipochondryk. Hipochondryk przychodzi do lekarza z całą listą wygooglowanych bolączek na które on akurat wszystkie cierpi. Niestety nie zawsze lekarz postawi właściwą diagnozę dlatego też na grobie hipochondryka widnieje napis "

A nie mówiłem!?

"
Mottem prawdziwego hipochondryka są słowa Jezusa Chrystusa "

Szukajcie, a znajdziecie

".
Polak u holenderskiego lekarza
Gdy w Polsce do dziecka z gorączką (38,5ºC) potrafi przyjechać pogotowie to w Holandii lekarz domowy telefonicznie i lakonicznie poleci
spanikowanej matce
podać aspirynę i przyjść z dzieckiem ewentualnie następnego dnia do jego gabinetu.
Na grypę i zaziębienie nie wynaleziono jeszcze lekarstwa i holenderski lekarz nie przepisuje na takie dolegliwości żadnych leków, a już na pewno nie antybiotyków. Lekarze domowi kierują się zasadą, że choroba sama przejdzie gdyż tak też jest w 90% przypadków. To oszczędza służbie zdrowia masę pieniędzy i czasu. Niestety Polacy w Niderlandach mają z reguły uczucie, że znajdują się w tej pozostałej 10-procentowej części.
Holenderski lekarz nie cacka się z pacjentem
Na wszystkie choroby; od czyraków po egzemy, leżą w poczekalni foldery które cię uświadomią, że wyzdrowiejesz sam gdy tylko będziesz uprawiał sport, jadł dużo warzyw, pił mleko i nosił czyste skarpetki. Antybiotyki są przepisywane jedynie w wypadku postępującej gangreny. Skierowanie do specjalisty dostajesz tylko w wypadkach beznadziejnych. Ze złamaną nogą udajesz się samemu na pogotowie i siedzisz kilka godzin w poczekalni między innymi ciężko rannymi czekając na zmiłowanie.
Kobieta w zaawansowanej ciąży może tu śmiało jeździć na rowerze - w innym kraju lekarz by ją za to mocno skrzyczał ale nie w Holandii. Gdy się skarżysz na bezsenność - lekarz radzi więcej świeżego powietrza i wysiłku fizycznego.
Faktycznie taka pragmatyczna służba zdrowia ma jak najbardziej rację; gdy masz za duże ciśnienie, cukier lub cholesterol - nie żryj tyle, nie pal, ruszaj się więcej! Ale my tego nie chcemy słyszeć. Wolimy lekarza który nam przepisze "mocne" lekarstwa.
Z najbardziej błahą dolegliwością musisz się wysiedzieć w poczekalni do lekarza domowego, bo bez jego recepty nie dostaniesz żadnego lekarstwa oprócz: aspiryny, paracetamolu i kropli do nosa. Bez skierowania lekarza domowego nie wejdziesz do specjalisty, nie pójdziesz na badania.
Moją holenderska sąsiadkę z otwartym złamaniem nogi mąż zawiózł najpierw do lekarza domowego po skierowanie do pogotowia. Holender nie zawraca głowy Panu Doktorowi błahostkami.
niedziela, 2 marca 2014
Dit is de grootste schok en monsterlijke pijn, deel van mij die gegaan voor altijd, en nooit is genezen de pijn,
Toen hij stierf mijn moeder! Ik heb zo vreselijk geen moeder, ouders, familie. IK MIS............
...
Jest to
Największy szok i potworny ból, część mnie, która jest odszedła na zawsze i nigdy nie uleczy sie ból po zmarlej mamusi .
Nie mam mamusi - to okrutne !, stracilam rodzicow , rodzinne i bardzo mi ich brakuje ,..
IRENA ROSZAK